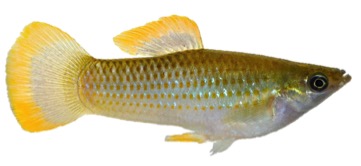 In my underground wanderings I have on one occasion stumbled upon what we believed to be hydrosulfuric acid.  It is pretty nasty stuff. The room, deep in a mine, was eerily decorated with odd formations and crystalline growths, and had pools of blood red liquid on the floor. We discovered several dead bats and decided to get out of there, though our gas detector was not reading anything out of the ordinary.
A 10 year study has just discovered some answers about how organisms can live in these harsh conditions. For example, the Atlantic Molly.
The tiny Atlantic molly can live in small puddles of toxic or nontoxic water. Using genomic tools, the researchers compared gene expression of the mollies living in toxic hydrogen sulfide environments with those mollies living in nontoxic environments just a few yards away.

They found that the fish have a two-pronged approach to survival: They become inert to the toxins that enter the body and they are able to detoxify hydrogen sulfide more efficiently.

Hydrogen sulfide shuts down energy production in cells by interfering with specific proteins. The fish combat this challenge by using anaerobic metabolism, which is an alternative — although much less efficient — way to produce energy and does not involve oxygen.

The scientists found that about 170 of the fish's 35,000 or so genes were turned on, or upregulated, to detoxify and remove the hydrogen sulfide. The poison invades the fishes' bodies, but their changed proteins help the fish break down the hydrogen sulfide into nontoxic forms and excrete it.
Want to learn more? Head on over to Kansas State University's website. Pretty interesting findings.